Organisation
Publié le June 17, 2009
The offered degree course is a complete and independent degree, which takes place at one site each semester :
1st semester at Torino, at the Politecnico di Torino, Italy;
2nd semester at Grenoble, at Grenoble INP - Phelma, France;
3rd semester at Lausanne, at the EPFL, Switzerland.
After this joint degree course the students will finish their degree with a final semester dedicated to their final study project /dissertation.
Experimentation platforms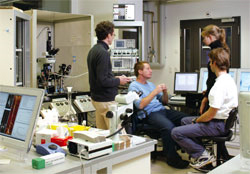 For the implementation of a lot of practical work and projects, this degree draws upon the skills and expertise of the three institutions concerning microelectronics, and micro and nanotechnology.
For the more specialised subjects it will benefit from the environment of the research laboratories working in these fields, and the technological facilities which have been developed in the three universities.
Politecnico di Torino : experimentation centres
The Electronics Department on the Turin campus ,and the Chivasso du Polito site provides :
Design Platform, with aids for circuit design and for the simulation of integrated systems micromechanics (CAD software, workstations, etc.) ;
Technology Platform (Chivasso Microtechnical Laboratory).
Grenoble INP : Nanotech platform
Technology Platform as an introduction to the clean room for integrated circuit technology ;
Design Platform equipped with many teaching aids (CAD, workstations,testers) acting as training aids in circuit design, allowing circuits to be made and tested by the CMP department, located in Grenoble INP ;
Biotechnology Platform, developed by Grenoble INP with the aid of teams from the CEA (Atomic Energy Centre) -LETI allowing students to make and test biochips ( microreactor design, target installation and fluorescent detection) ;
A new platform dedicated to nanoscience and nanotechnology out of collaboration between Grenoble INP and UJF (Joseph Fourier University). This platform, « Nanomonde » (Nanoworld) is equipped with two atomic force microscopes (AFM), a scanning tunnelling microscope (STM), an optical microscope and a feedback force nanomanipulation (unique ! you can feel the atoms !).
The Ecole Polytechnique Fédérale of Lausanne
The EPFL has a very large computer science infrastructure and facilities for CAD, fully equipped and dedicated to microelectronic circuit design. It has, in particular :
A 40 workstation UNIX facility ;
More than 30 top of the range PC's ;
All computers are equipped with circuit design aids: CADENCE, Mentor, VHDL-AMS,Verilog (AMS), SystemC ,Tanner Research, and Pspice.
Master Nanotech
Grenoble INP
Minatec - 3 Parvis Louis Néel - BP 257 - 38016 Grenoble Cedex 1
Tél : +33 (0)4 56 52 91 00 - Fax : +33 (0)4 56 52 91 03
Copyright Grenoble INP